IMAP Configuration in Mozilla Thunderbird 3.x
This is a brief tutorial on how to configure Mozilla Thunderbird 3.x e-mail client to download IMAP mail from Platon Webhost mailboxes. As an example in the figures is shown mailbox@testdomain.sk, but the procedure is applicable to any mailbox operated on our servers.
On the Mozilla Thunderbird welcome screen, click on E-mail (go right to the second step, if you install Thunderbird).

On the next screen, fill in:
Your name - will be displayed to the recipient
E-mail address - set up at Platon Webhosting
Password
All required login information can be found in Platon Webhost's e-mail and / or SMS. Click on Continue.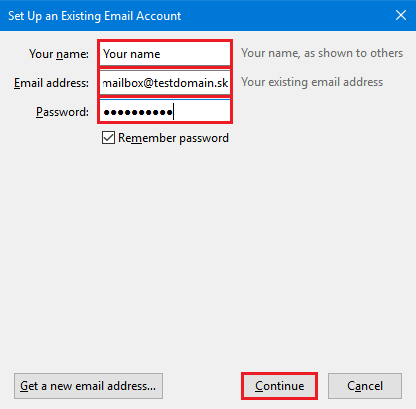 Mozilla Thunderbird will try to set up your e-mail account automatically. Wait for this process to finish. Click on Manual config and on the next screen on Advanced config.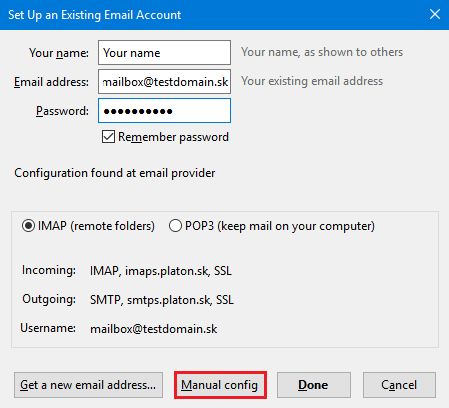 In the left menu of the configuration window, select the name of the account you just configured, and click on Server settings. Change the following attributes:
Server name - imaps.platon.sk
Port - 993
User Name - enter your current login name (e-mail address)
In the section Security settings set in the item Connection secure: SSL/TLS and change Authentication method to Normal password
At the bottom of the screen, click Advanced...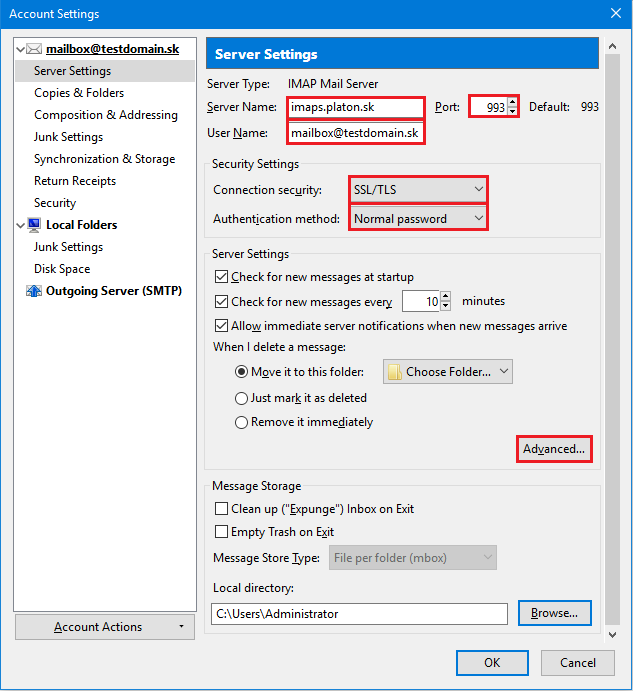 A new window pops up, in the field IMAP server directory enter INBOX. - beware of the capital letters and the dot at the end. To exit, click OK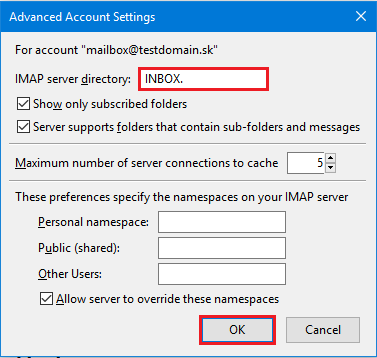 In the left menu, select Outgoing server (SMTP). In the right part of the screen, select the account that was automatically created and click Edit.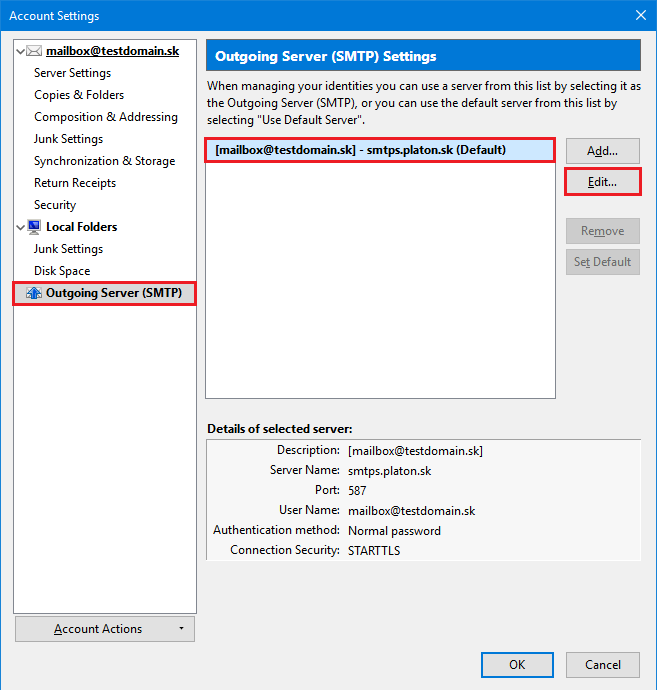 The SMTP server settings will pop up, fill in the following items:
Description: – choose any description
Server name: smtps.platon.sk
Port: 587
In part Security and Authentication set:
Connection security: STARTTLS
Authentication method: Normal Password
User Name - enter the username associated with the mailbox (mailbox)
Click the button OK to complete the setup.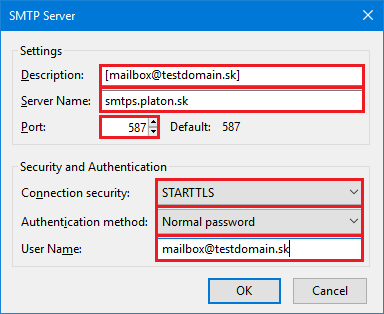 Before you first download and send emails, Mozilla Thunderbird will ask for your password to sign in to the appropriate mail server. Provide the password that belongs to that mailbox and check Use the password manager to remember this password.