Configuring DNS records (A, TXT, ...)
It is possible to manage your domain's DNS records via the web interface setup.platon.sk
All the following settings can be performed in the DNS section after clicking the View button next to the name of the domain. For each entry you can set the TTL (the lifetime of data).
Please be very careful when performing any change in DNS records as an incorrect DNS setting may result in disablement of the domain or related services. In case of doubt, consult the required change with our support (support@platon.sk or +421 222 111 321).
A Record / Direct Record
A Record (Direct Record) is used to translate domain names into IP addresses. It can be set in the section A Records. After clicking on + Add a new record, enter a name record in the line Name (e.g. www, subdomain, etc.). In the line Content fill in the IP address where the A record should be pointed to.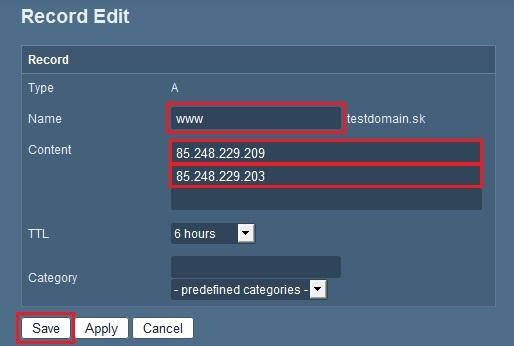 MX record
MX maps where e-mails for a certain domain should be pointed to. So, if a mail server wants to send mail to a domain, it will check the DNS records to find out which server handles mail for the domain. An MX record must always point to a domain name.
If the mail server for a certain domain operates within the same domain (for example, mail for platon.sk is handled by techne.platon.sk), it is necessary to set in addition to the MX record also the A record that defines the IP address where the server is located. For example: techne.platon.sk is at IP address 85.248.229.199.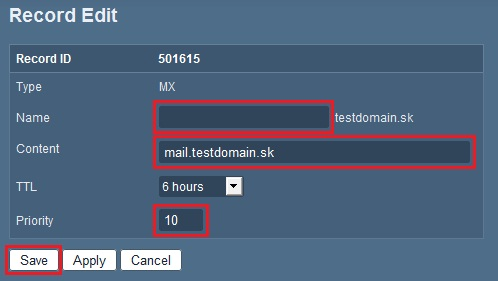 CNAME record
Setting the CNAME is simple. Fill in the alias of the record in the first line and the original record in the second line.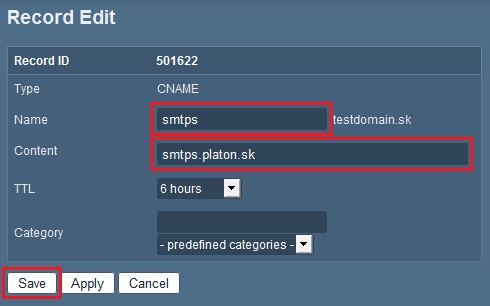 TXT record
TXT Record is most commonly used by e-mail technologies to identify the sender of an e-mail.
TXT Record is comprised of the name and content, which can be for instance a DKIM key or SPF record.